Javier Souto pulls back Westchester incorporation post resident pushback
He read the room.
Miami-Dade Commissioner Javier Souto asked the county attorney to repeal the ordinance that created the Westchester Municipal Advisory Committee he later secretly formed to consider (read: jam through) the incorporation of Westchester.
Souto had already appointed the 7-member MAC, according to a memo he sent on Feb. 9, the day before he met with residents last month for his monthly town hall. They were already upset by a letter he sent them all telling them that the MAC had been set up without their involvement. The commissioner had gotten his colleagues to bypass the required petition signatures from 20% of the the voters before moving forward.
And they didn't even know then that the MAC had already been formed. If they thought it was cooked before, well, this would make it smell well done. The onslaught on social media, where critics formed a Save Westchester — No New Taxes page on Facebook, was probably too much for the old man.
"I have spoken to many persons in our community on both sides of the issue and have decided to request that the county commission repeal the Westchester MAC," Souto wrote Monday to County Attorney Geri Bonzon-Keenan.
Read related: Javier Souto doesn't 'give a shit' as he pushes for Westchester incorporation
"Although my perception of the long-term problems in our area remains the same as I described in my recent letter to my constituents, the situation for the families in my District has changed considerably in the last couple of months," he said.
Because it's hard to say que metio la pata.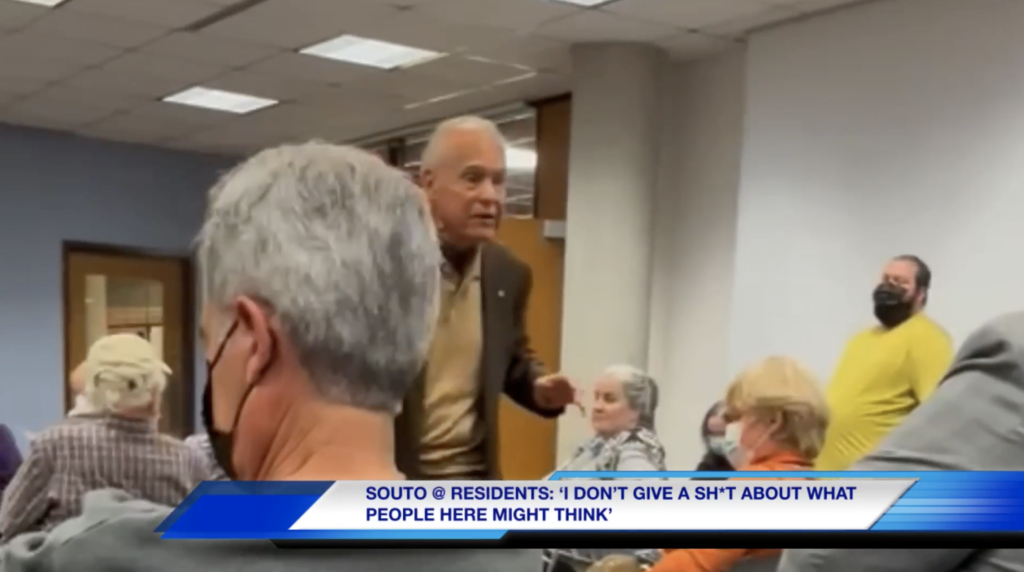 "I have always wished the best for the people that I represent and have consistently worked very hard to try to improve the wellbeing of my constituents," Souto wrote, asking that the repeal be put on the April 5 commission agenda.
The announcement comes in the wake of major opposition. Souto was blasted at his Feb. 10 town hall. So much so that the usually calm and serene (read: asleep) former state senator sorta lost it. He told residents he didn't "give a shit" and, basically, shushed them.
"Calladito se ven mas bonito," he said.
The backlash was fierce. You couldn't pay for your groceries at the Publix Sabor on Coral Way and 87th Avenue without hearing someone in one of the lines talking about it. People had block meetings in their homes with their neighbors and talked about getting signs and message T-shirts that would, of course, be the same color.
Martha Bueno, a community activist who is running to replace the termed-out Souto this year, was at some of those meetings and credits the residents for killing the incorporation effort.
"This was definitely the residents who did not want this and they started to organize," Bueno said. "And they're not going to stop."
The incorporation is likely to become a campaign issue. Ladra was unable to reach State Rep. Anthony Rodriguez on the last week of the legislative session, but he had been on Spanish-language radio weeks ago saying he would not support it — if the MAC found that there would be a tax increase.
Read related: Libertarian cannabis advocate Martha Bueno to run in Miami-Dade District 10
Bueno told Ladra she could "easily promise" that she would not be the one to bring this up again unless it came from the residents and they collected the 20% that showed they want it.
"I'm against a commissioner going forward without even talking to his community," she said.
Souto could not be reached for comment. His chief of staff, Aldo Gonzalez, did not return several calls, emails and texts from Ladra over the course of several days.
But even friends and longtime supporters of Souto's were in upset.
"He opened his eyes and saw the reality — that we don't want to be a city," said Jose Sanchez-Gronlier, an attorney and Westchester resident for 37 years. "Nobody bought that story about the taxes not going up."
He and others told Ladra they are happy with county services. There's a reason why it says "A Miami-Dade County Community" under the name of the neighborhood on the entrance signs.
The biggest problem for most people was the way Souto — who sends out newsletters and emails on everything — failed to mention this and disregarded the required petition.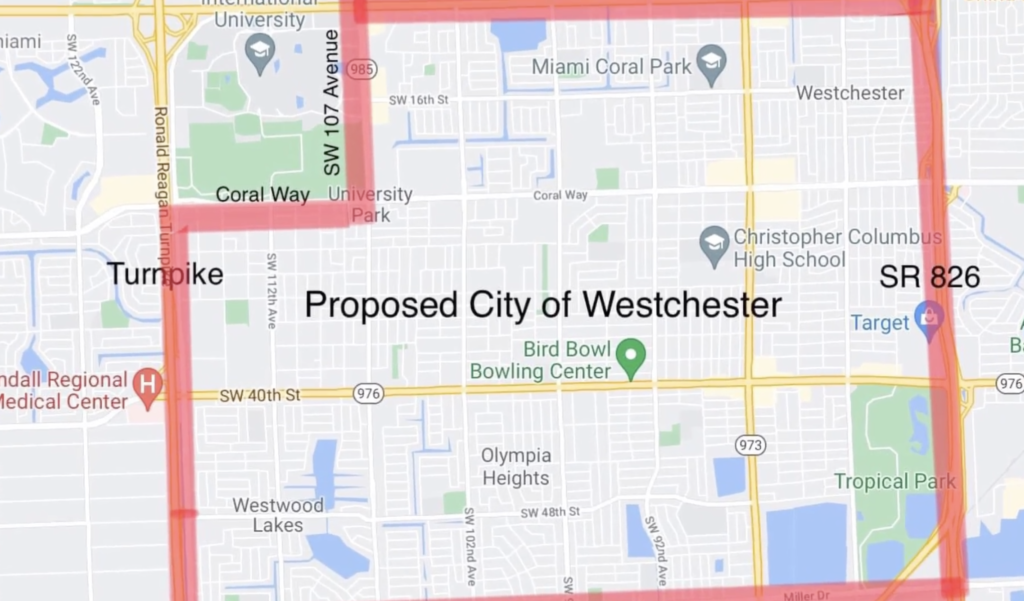 "He did this behind the back of the community," Sanchez-Gronlier told Ladra. "Hiding it from us until the very last moment with tremendous stealth and secrecy.
"Why do we get so much junk mail and no notice on this?"
That's one reason it seemed developer driven. The other: The political action committee pushing the incorporation already — the Orwellian sounding Friends of Tropical Park — had raised more than $62,000, mostly from developer interests. That includes $5,000 each from Magnum Construction Management (read: the Munillas) and GL Homes, the developers who want to build 550 homes on the abandoned Calusa Golf Course, and $10,000 from various entities owned by Ralph Garcia-Toledo and Jesse Manzano-Plaza, who are involved in that controversial Monorail project to connect downtown Miami with the beaches.
Last month, the PAC raised another $15,000 from developers David Brown and Jose Hevia and land use attorneys Jeffrey Bercow and Melissa Tapanes.
Read related: Three lobbyists appointed to Miami 21 task force draw scrutiny, complaints
These are not small-time developers. All these people are involved in major projects. In addition to the talk about a brand new stadium for the University of Miami football team at Tropical Park, Westchester residents fear that Coral Way could turn into a Brickell-like corridor.
There is already commercial use. Most homes along 24th Street from the Palmetto Expressway to 84th or 85th avenues have been turned into insurance agencies and dental offices. In this political climate, it's not hard to see that area get upzoned to high density residential for mixed use projects: A ground floor of dentists and insurance agencies, three floors of parking and 17 stories of apartments. Or something like that.
"You only have to pass by Sweetwater to see," said Sanchez-Gronlier, who lives near Coral Way. "The people of Westchester don't want that."
There are more than 80,000 voters in the Westchester MAC general boundaries — Southwest 8th to 56th streets and East State Road 826, or the Palmetto Expressway, to the Florida Turnpike — except for the area west of 107th and north of Coral Way, which is where Florida International University and the county's Tamiami Park are. More than 50% would have to approve of the incorporation.
Even two of the people Souto had appointed to the MAC had already backed out before he decided to kill it.
David Arbetter, the owner of the very well known Arbetter's Hot Dogs on Bird Road — he got applause when he went to County Hall in December — told Ladra that he was put on the committee without his knowledge.
"That was a rumor that I was on it. I said no," he told Ladra on Monday. Maybe it was because three months ago, the 57-year resident spoke in favor of cityhood.
"We hope to have a municipality of our own," he told the commissioners on the Chairman's Policy Council on Dec. 8. He must have had a change of heart after he saw all the resistance.
"I don't get political because my parents and my grandparents before that, we just sell hot dogs," said Arbetter, who had been chosen to replace someone named Paul Camacho.
"I want people to be able to come to Arbetter's and sit back and have a good time. I don't want anyone feeling uncomfortable," he said. "I love Westchester. And I love Arbetter's."
Some residents are not going to let their guard down.
"I'll reserve my celebration until the repeal is passed in writing," said Anthony Garcia, an operations manager who was at the Feb. 10 town hall.
"I'm wary. It's great that he's proposing an appeal but if the rest of the commission votes it down, then he can wipe his hands of it and still get what he wants," Garcia said.
"I remain skeptical."